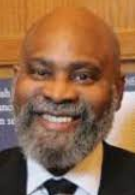 Imam Dr. Salahuddin Muhammad
914-475-2605

Imam Salahuddin accepted a version of Islam (Nation of Islam) at the tender age of thirteen, which started his journey on becoming a bona fide Muslim. Originally from Harlem USA, he has been involved with community activism, and bridging the divide between diverse communities.
An avid student of Imam Warith Deen Mohammed (RAA) he is passionate about overcoming artificial barriers that separate communities and is classified as a "peacemonger" by those who have interacted and worked with him over the past 40+ years.
He served as chaplain at NYS Department of Corrections for thirty years, providing spiritual guidance and empowering Muslim inmates to break the vicious cycle of recidivism.
He has led urban, suburban multi-ethnic and multi-cultural communities through his decades of service including Masjid Al Ikhlas (Newburgh, NY), As Salaam Islamic Center (Raleigh, NC).
He served as president of the Association of Muslim Chaplains for the past seven years and now president Emeritus. He has also been an adjunct professor at four colleges teaching world religions and Islam.
He is presently the vice president of the Muslim Endorsement Council (MEC). He is a Board member of Muslim Alliance in North America (MANA), and a consultant for Leaders by Choice (LBC)
He obtained a Doctor of Ministry degree in Islamic Studies-Christian/Muslim relations from Hartford Seminary and an Honorary Doctorate Degree in Humane Letters from Global Workers of God Seminary and University (GODSU). He is presently the Dean of Islamic Studies at GODSU. He is married to Fonda Kitt for almost four decades, has five children, ten Grandchildren, and two Great Grandchildren.